Four Months of Van Dwelling
In April of 2018, I dropped my husband off the southern terminus of the Pacific Crest Trail and headed out with my dog in a newly custom built van having really no idea what I was doing or where exactly I was going. This article will explore a few topics on van dwelling that I have been asked a lot about or had concerns about for myself when first starting out.
Overnight Parking
During my four months alone with Bowie (my dog), I tried to plan out where I was going to park overnight prior to getting there. My first choice when parking was always forests and wilderness areas of some kind. Parking in these areas typically gave me more privacy and easy access to hiking trails. This, of course, didn't always exactly work so my second choice would be a Wal-Mart parking lot and third a travel station.
The West Coast has a lot of options when it comes to overnight parking in wilderness areas and I found myself using FreeCampsites.net a lot. For the most part, this website gave accurate information on the conditions of an area, cell signal, and the GPS coordinates to get there. The site allows users to leave updated comments on each site giving the traveler current information and pictures of the site. Typically I would try to find a site before dark to ensure I could successfully find the spot and felt safe there.
During my four months of travel on the West Coast, I overnighted in several National Forests, Bureau of Land Management (BLM) Areas, Wal-Marts, and Pilot Flying J Travel Centers. I made sure especially in parking lots, there were no signs posted restricting overnight parking (some Wal-Marts, in particular, do not always allow this) before settling in for the night. Although I did meet some interesting characters during my solo venture, I never had any issues overnight parking or was ever asked to leave a location. In several instances, I would even use a location several nights in a row.
Food & Water
While traveling in the van I basically ate what I would any other time. I am personally pretty lazy and hate cooking, and living in a van did not change this. Food that needed to stay cold would be stored in a Canyon Cooler that sat in-between the driver and passenger seat. This cooler also functioned as a pretty comfortable seat when needed and a table at other times. As long as I kept stocked up on the ice, anything that I would typically keep in a fridge could be as easily kept chilled in the cooler. I did have moments during the four months where I became even lazier and would eat only dry and or packaged food, not wanting to keep up on ice storage. Post solo travel, a Dometic Fridge has now been hooked up to the solar panels replacing the cooler.
If I did want to cook or heat up food, I did have a Coleman Two Burner Propane Stove that could be used but typically I would just use a Jetboil Flash to heat up water in the morning for coffee or at night for tea. Believe it or not, this is as close as I came during the whole four months of solo traveling to cooking. Could I have easily cooked a hot meal? Yes! Van life does not prevent this at all, however, as stated before I'm lazy.
I only drink water, coffee, and tea and van life was no exception. I stored a four-gallon Pressurized Jerry Can (Hydro Blu) in the van, which also filtered any water it stored. As long as I did not allow the filters to freeze and occasionally back flushed the filters, water was never a worry. Storing water within the van gave me easy access to quench my thirst and Bowie's, cook with, clean with, and maintain my personal hygiene.
Hygiene
My personal hygiene never exactly changed while living out of a van. Similar to other van builds, mine does not have a bathroom and I personally never felt the need for one nor concern of not having one. When parking in a more public place like a travel center or Wal-Mart, I would simply use the restroom within, for all the things one can use a flushing toilet, mirror, and running water for.
Out in wilderness areas, if running water was not accessible, I would befriend the wet wipe. At night or after a hike I would wipe down with a wet wipe and apply some deodorant. When I had access to a body of water of some kind, I would go for a swim. You can maintain cleanliness easily even without soap.
I would also make use of any pit toilets when available and when not, practice Leave No Trace Principles to dig a cat hole. Commonly during the night, nature would call and I would make use of a glass bottle and a GoGirl (or female urination device) to avoid accidentally locking myself out of the van or any other mishaps. I would then empty the contents of the bottle in the morning and occasionally replace it after so many uses.
Safety
Overall I never felt my safety living out of a van (even as a solo female) was in jeopardy. With that all being said, I did always stay alert and kept aware of the people around me and my surroundings in general. If I didn't feel good about a person or place, I would trust those instincts and simply move to another spot where I felt more secure. I would also do my best to send my coordinates to a loved one along with a description of my whereabouts via text. I would then agree to a time I would check in with them the following day. In the event of an emergency, this would hopefully provide sufficient information in locating me.
The van doors would, of course, remain locked at night and in the event of leaving the van after dark, my keys would be laced between my fingers and Bowie would typically be close by. If I left any windows down overnight, I would make sure that they were cracked smaller then what a hand would be able to squeeze through.
Solo Van Life In Review
Overall I really enjoyed my experiences living solo out of a van for four months and found it easy to adapt too. I learned a lot about myself and about van life in general. There are several things that I would maybe do differently and since traveling solo, several things have been updated in the van. I continue to live and travel full time out of this specific van (dubbed the Clydesdale) with my husband. Living in such a small space with two people does change the routine and functionality from that of my solo venture, however, van life is great!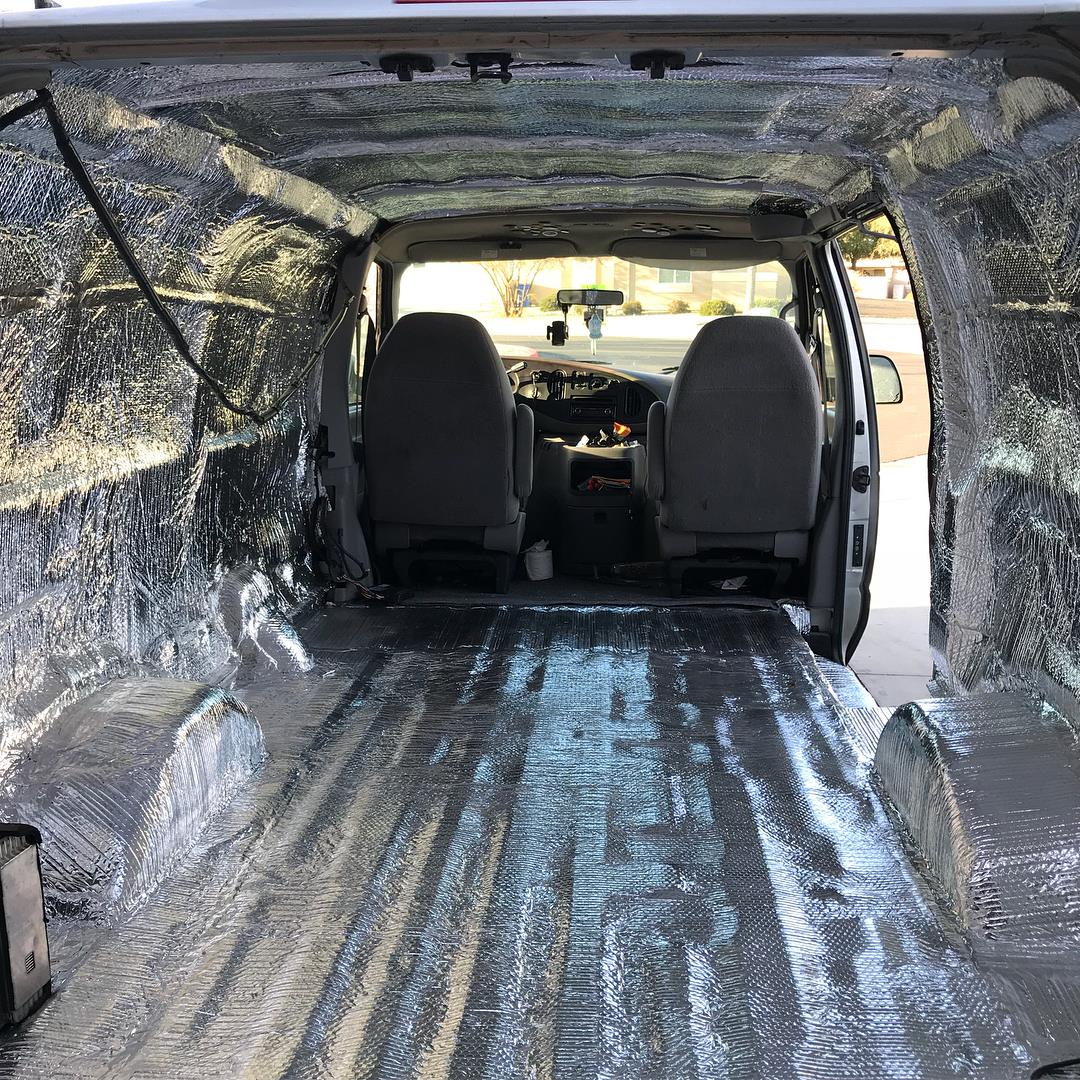 Below you will find a few technical specs on the van build and more details specific to my four months of van life.
Time Frame Of Travel: April 2018 to August 2018
States Explored: California, Oregon, Washington
Type of Van Used For Custom Build: 2002 Ford E150 Cargo Van
What Was Installed In The Van:
2 HQST 200 Watt 12 Volt Monocrystalline Solar Marine Kit
1 12V 500-Watt Pure Sine Wave Inverter
1 AGM Deep Cycle 12v 125ah SLA Rechargeable Battery
What Was Custom Built In The Van:
Bed (sized between Full & Queen)
Cabinet Space for Food, Kitchen Utensil, and Propane Storage
Clothes Loft
Pull Out Drawers Under Bed
Wood Paneled Ceiling and Walls
Vinyl Flooring
What I Found Helpful To Have In The Van:
1 Colman Classic Propane Stove
1 Canyon Outfitter 35 Cooler
2 Thermaback Blackout Curtains (used as a divider between the cab of the van and living space)
3 Custom Made Velcro Reflectix Window Covers
Some of the items mentioned in the lists above can be found in our store.